Whitewash: Pros and Cons of Popular Brick Exterior Treatments
Are you looking for a clean, new look for your home's brick exterior? Have you considered the whitewash technique that uses latex paint?
Today we are going to wrap up our series on exterior brick and how you can change the look and feel of your house.
Previously, we covered the pros and cons of painting your home's brick exterior. We also looked at the pros and cons of two popular treatments for brick that don't use paint: German smear (or mortar wash), and limewash.
There is a third option that is slightly different from a paint job. It yields the same or similar look as a mortar wash or limewash treatment on your brick exterior walls or fireplace.
However, it is an inferior option to limewash, even though sometimes the terms are used synonymously.
In this article, we will differentiate between a whitewash effect using limewash and using diluted latex paint.
Limewash vs. Whitewash
Limewash is different from latex paint. You can make your own limewash paint using hydrated lime putty and water – enough for a whole house for under $50 at the most.
Limewash is basically minerals painted on your wall. It is excellent for brick or anything else porous as the material will soak up the limewash. Not so with whitewash.
Whitewash is diluted latex paint, so it will sit on top of the surface on which you paint it.
Since it's diluted, it's a lot less likely to chip and peel the way a thick layer of latex paint will do on a brick exterior.
Still, it's just as much work as limewash and more expensive for a large area, so this is not the way to give your exterior brick siding a refresh.
You can get the same look versatility by using limewash.
Whitewashing Your Brick
Whether you are using lime paint or diluted latex, the method is basically the same. The first step for whitewashed brick is to clean it very thoroughly first. You can use one of several ways.
According to Bob Vila, these methods are listed from mildest to harshest:
Dish soap
Mix one part dish soap and one part salt with enough water to make a paste. Scrub this mixture into the brick and let it sit for 10 minutes and then rinse.
Boric acid
One tablespoon of boric acid powder and one gallon of warm water can be used to scrub the brick. Make sure you use rubber gloves!
Ammonia
Spread one part ammonia, two parts dish soap, and one part pumice powder onto brick with a clean rag. Next, let the ammonia sit for 10 minutes and rinse.
Trisodium phosphate
One-half cup of TSP in a gallon of hot water can be used to scrub brick with a brush. You must wear gloves and eyewear and use extreme caution – this is highly caustic.
After you wash the brick thoroughly, remove any peeling paint, and protect your other surfaces, use a 50/50 mixture of white latex paint and water and brush the surface of your brick with a masonry brush or dab with a rag.
It works best to work in small sections, as the paint dries quickly. You can use a mister to keep it from drying. However, you will want to wipe as you go if you want a partially exposed look.
Likewise, if you use clear diluting solution rather than water, it will extend the drying time, so you don't have to rush.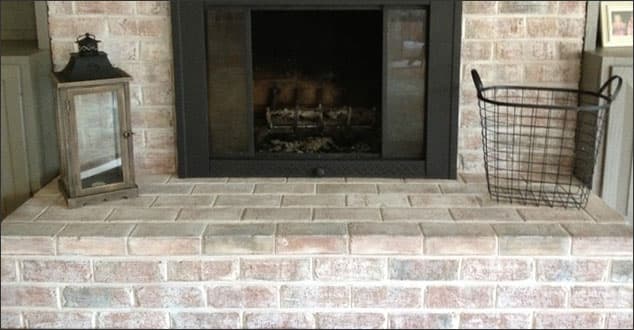 Pros and Cons of Using Latex Paint to Whitewash Brick
Whitewash with latex paint is great for small projects, such as an indoor fireplace you want to be updated. It can give a uniform brightening effect without sacrificing the natural texture of the brick.
You can even whitewash wood without losing the grain. It is an excellent way to use any leftover paint you may have for a small, indoor project.
However, it wouldn't be ideal for a large brick exterior area because whitewash is more expensive than limewash. Additionally, it doesn't soak into the brick in quite the same way.
Whitewash is just as labor-intensive as limewash and looks the same. In fact, you can apply limewash in several layers to make it look just like it would if you had used undiluted paint.
Bringing it Home
Are you inspired you to try one of these treatments on your dated brick exterior?
They are all DIY friendly and can result in a whole new look for your house.
However, they are all labor-intensive and need a little practice to get comfortable doing.
Whatever you choose, if you have any questions about a new home exterior, please don't hesitate to give us a call! We would be glad to be of service.
---
*Photo credit Infarrantly Creative. Used with permission.