Pros and Cons of Popular Brick Exterior Treatments: German Smear
Is your home's brick exterior outdated, dingy, or old? Are you looking for a new look for your home but not sure if you should paint your brick exterior?
We have covered the pros and cons of painting your home's brick exterior. However, professional masons may discourage you from painting your bricks because they need to breathe, and it's very difficult – if not impossible – to go back to bare bricks after you paint them.
If your brick exterior needs an update, your options are limited, and many people will go for a new paint job.
Options Other Than Paint
Did you know there are several options for brick siding other than paint?
Mortar wash, also known as German smear, limewash, and whitewash, are all techniques that produce similar effects on a brick exterior.
There are some significant differences. They aren't all the same material, and they don't have identical properties.
Today, we will take a look at the German smear technique.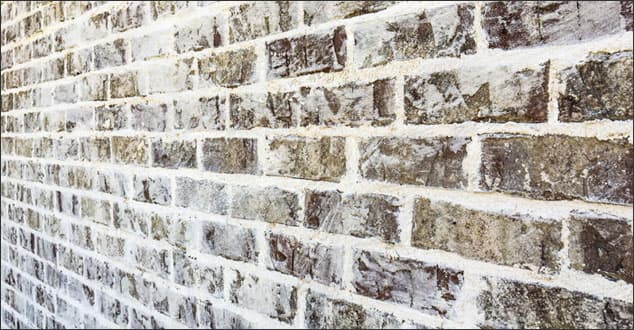 Mortar Wash of German Smear
Mortar wash or German smear is a way of antiquing your brick siding with mortar.
The good news is that it is very cheap and it's DIY friendly. Also, unlike any of the other options, including paint, it's permanent. This is a good thing since German smear is also very labor-intensive.
Once you apply a mortar wash to your house, you would have to use muriatic acid to get it off. So, for all intents and purposes, this is permanent.
The Look of German Smear
If you have ever watched the popular HGTV show "Fixer Upper," you may have seen one or two of the homes transformed by German smear.
This technique is notable for adding an old-world or antique masonry look to your house.
It also lightens the exterior color since the mortar generally comes in white or grey. The large patches of white mortar mimic the irregular joints of an ancient masonry wall.
German smear softens the straight lines of a brick pattern, and it adds a rough texture on top of the bricks, giving your home an entirely new surface.
Since you add a mortar wash by hand, the new texture will have an organic feel to it, just like the bricks in an antique wall.
Basic How-To
Mortar, which is a blend of Portland cement, lime, sand, and water, adheres very well to bricks and other block building material since it's made for that purpose.
You can buy it pre-mixed, which is ideal as the ratios can be challenging to maintain yourself.
You want a consistent appearance throughout your exterior, and the wrong mix will crumble. An 80 lb. bag of pre-mixed mortar costs about $10, and you'll need three of these for a 1,000 square foot house.
As a result, you can see how cheaply you can do this yourself.
The hard part is setting aside enough time to get it finished, as it can be quite labor-intensive. To hire a professional mason to apply a German smear could cost many thousands of dollars.
Mortar comes in white or grey. However, color additives are available to widen the range of available colors.
The traditional German smear look is white mortar over red bricks. Since the mortar wash remains pliable for up to 45 minutes after application, you can customize the look and feel of it as you apply by scraping off some of the mortar to let the brick show through.
You can add mortar in any consistency you like and scrape away as much or as little as you want.
Pros of German Smear:
Change the look and feel of your house to an antique look.
Inexpensive and an easy DIY project.
Permanent change with no need to re-apply after several years.
Cons of German Smear:
Many labor hours to complete.
Permanent change.
Bringing it Home
If you like an antique style rather than a uniform color and your brick exterior needs updating, you might want to think about using a mortar wash on your dated bricks.
The German smear technique uses inexpensive supplies and takes very little skill to apply. If you have the time or help, this technique might be the answer you're looking for!
---
Photos courtesy of Pine Hall Brick. Used with permission