Quality Siding and Windows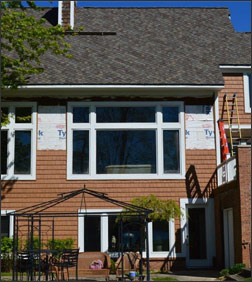 Renovations Roofing and Remodeling, Inc. is a family owned and operated business headquartered in Highland, Michigan. Additionally, we're known for our dependable quality siding and window services and for providing our customers with the best products.
At Renovations Roofing and Remodeling, Inc., you will receive outstanding customer service on all your projects. Our experts offer comprehensive reporting so we can analyze the problem areas together and come up with the best solution. With digital imaging, we can see what your new siding and windows will look like when we are done.
Premier Siding Craftsmanship
From vinyl, wood shake, composite, and custom product patterns, Renovations Roofing & Remodeling, Inc. offers a wide range of siding options to protect your home or business. In addition, we have manufacturer warranties available along with great financing options.
Energy Efficient Window Solutions
Quality brand windows
Exterior weather protection
Door wall options from vinyl replacements to aluminum clad frames
Drafty window repairs
Get your FREE in-home estimate today!
More services offered
If you are looking for skilled workers and professional services, then you came to the right place. Renovations Roofing & Remodeling, Inc. provides both masonry and insulation work for home and business properties.
Satisfaction Guaranteed
At Renovations Roofing & Remodeling, Inc., we provide 100% satisfaction guaranteed on all of our services. As a result, you can be rest assured that your siding and/or windows project will receive the highest quality in services, professionalism, and products.
For more information, please contact us or call today!