Masonry Services and Repairs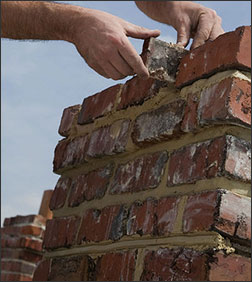 Renovations Roofing and Remodeling, Inc. is committed to providing you quality masonry services and repairs that you need. Your time is valuable, thus allowing us to get right down to business with same-day services. We will discuss with you every part of the work we do and the materials that we will be using. This is to ensure warranties and service protection.
Masonry Services
Leaking chimneys are a very common repair request that we handle. This is caused by cracks in the brick, stucco, or stone that makes up your chimney wall. If not taken care of, interior damage could be caused.
When masonry joints start crumbling, it needs to be cut out and the replaced. This is called tuck-pointing. During this process, the joints will need to be ground out, then the loosened mortar will need to be removed. Next, the joints will need to be cleaned of all loose mortar and dust. This is followed by new mortar being placed in the joints and then finally, cleaning off the dried mortar that may have gotten on bricks.
We repair tuck pointing, chimney caps and flashing, and the replacement of brick and mortar.
Proper insulation traits
Sufficient amounts of material
Residential or commercial
Energy efficient
No condensation and mold growth
Ventilation and circulation
Make an appointment today
Our team is ready to help you fix those repairs and customize your roof and remodeling designs. With great pricing options and FREE estimates, Renovations Roofing and Remodeling, Inc. is your construction solution.
Please contact us today for your masonry repairs.