Home Additions: Everything You Want to Know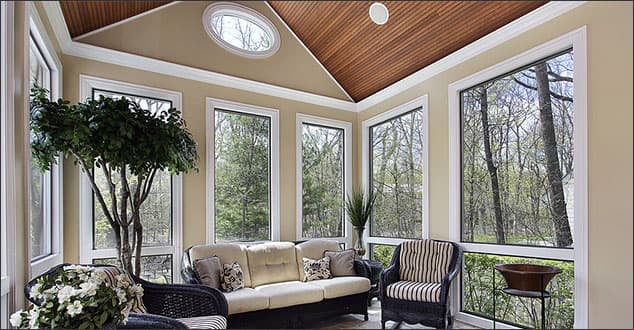 We've spent a fair amount of time talking about finding more livable space inside your house with a basement or attic renovation. Now, let's talk about how to add space by building home additions. 
Do you love your neighborhood, your house, your kids' school but need more room to stretch out? When your kids get older and bigger, it can be challenging to fit everyone in a small space, especially if your attic and basement don't work as living spaces. 
You might be starting to think about building an addition to your home instead of leaving your beloved neighborhood.
What kind of home additions are possible? How expensive are they? Read on to find out.
Garage Conversions
Some people look at their attached garages and think that it seems like prime real estate for a bed or a couch instead of a car. What are a few early mornings scraping snow off your car when you could get a whole new living area or bedroom for a fraction of the cost? 
Garage conversions are attractive because the structure is already there: walls, roof, and flooring. All you have to do is add plumbing, electrical, flooring, and finishing work to make it a cozy new room. Oh, and replace the doors with walls. 
While garage conversions can be less money, they may make your house more difficult to sell down the road. People love garages – especially in Michigan during the winter.
Sunrooms
Three season rooms are a popular, less invasive, and less expensive way to get another living space. You can build a sunroom in several ways – sometimes with traditional lumber framing and sometimes with pre-fabricated structural pieces. 
The great thing about a sunroom is that you could make one with almost all windows and let the sun heat it. The drawback is that sunrooms generally aren't heated or connected to electricity and are therefore much colder in winter months, bordering on unusable. 
One Room Additions
The solution to the problem both these first options present is to build a one-room addition or bump-out on your existing house. 
Technically, a small 3-foot bump out from your kitchen or dining room is an addition. I'm sure you've seen these types of additions hanging in mid-air. They can be handy if all you want is a little more space around the dining table or room to fit an island in your kitchen.
If you need a full-sized room with heat and electricity, you can build a one-room structure that is permanently open to the rest of your house. Many homeowners do this to get more bedrooms or living space. 
One room additions are usually for a single purpose, and they can be expensive. You have all the cost of building a new house, just scaled down to a single room: framing, permits, HVAC, and electrical work, plus tying a new roofline into your existing roofing system. 

House Additions
The most significant kind of house addition project is like building a whole new mini house onto your existing home and then opening it permanently to the new addition. The best additions blend seamlessly into the old house.
Home additions typically involve a significant change, like two stories of bedrooms and bathrooms. Unless you plan to rent the other side, home additions don't generally add second kitchens. 
New home additions are tricky, and the process can be very long and challenging. Proper permits and planning are required to pull it off. You may have to move out of your house entirely for several days or weeks during parts of the process. Additionally, putting up with months of construction can wear on anyone. 
In terms of cost, you might as well be building a whole new house, as a home addition can equal or surpass the price of the original house. However, home additions generally achieve a large return on investment when you go to sell. 
Bringing it Home
A home addition is worth considering at almost any level, from a bump-out in your kitchen to a two-story addition. You may have to put up with some noise and mess, but what you get in return is a more functional house. 
If you live in Southeast Michigan and have any questions, please give us a call. We're here whenever you need us!