Removing or Rebuilding a Second-Story Deck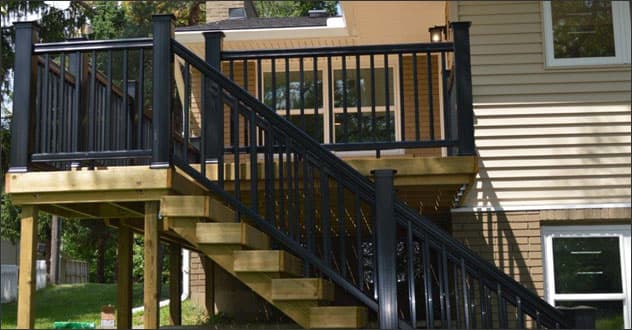 A deck is one of the most coveted pieces of a house. It's a key selling-point, as long as it's in good shape because it extends the "living space" of your home in two to three seasons of the year.
In addition, a deck can provide a safe and comfortable spot to sit outside and enjoy your yard, as well as house amenities like an outdoor kitchen, a pergola, or even a hot tub.
A deck also adds visual interest and dimension to the outside of your house. It gives any home a finished look.
Second-story Deck Advantages
A second-story deck can be even more advantageous.
It can provide access to the backyard more directly from a walk-out basement where the house is built into a hill, and outdoor access is more difficult from the back of the first story.
A second-story deck can also integrate a master suite to the backyard by creating an extra seating space and exit from that room.
And it can provide deeper shade and weather protection for a downstairs patio, making it more like an outdoor room.
However, what about a deck that is aging or falling apart, especially if it's a second-story deck?
The downside to decks is that they weather much more quickly than the other parts of a house.
Whether they are made of wood or composite material, they are subject to constant sun, rain, wind, and even and ice and snow.
A second-story deck can go from top-notch amenity to liability quickly if it's structurally unsafe.
Anatomy of a Deck
Let's say you want to tear down and rebuild a second-story deck. Even if you're going to tear it down (maybe you're converting a duplex back into a single-family home, and it's an eyesore), there are safety considerations.
Roofline Joining
Often, a second-story deck is constructed so that the main roof of the house juts out over the deck, or the deck roofline joins that of the house.
Once it's removed, what will you do with that remaining portion of the roof you don't need?
How will you safely remove that portion?
You need a qualified and experienced team to do this correctly, so your house isn't damaged.
Deck Foundation
Most two-story decks have their own foundations. These often consist of cement footings under the posts.
However, there may be times when a deck's foundation is tied to that of the house. The last thing you want is to start trying to tear down your deck yourself and find you're in over your head, or that you've damaged the foundation of your house.
Ledger Boards
Ledger boards are the boards that are attached to your house and used to anchor the deck. Once your deck is removed, the ledger boards will have to be removed as well.
If you are having your deck rebuilt, the ledger boards will be used or replaced. However, if not, you need professionals to erase any evidence those ledger boards were there.
Other Considerations for a Second-story Deck
Of course, we never recommend you do anything but the most basic DIY to your own home unless you are experienced, and you have the right equipment.
This includes safety equipment and – harder to come by – know-how. There are extra considerations for tearing down a second-story deck safely.
Working from heights is potentially dangerous, and falling debris and equipment can be hazardous as well. The smaller the area in which you have to work, the easier it is for accidents to happen.
You need qualified professionals to secure the area and do a safe tear-down.
Bringing it Home
Second-story decks can be a huge selling point, and the perfect addition to your house. However, a rickety and unsafe deck is dangerous.
Whether you want to build a new one or tear yours down, it's a job for the pros. We would love to help you every step of the way! If you live in Southeast Michigan, give us a call.