Popular Hip Roof Styles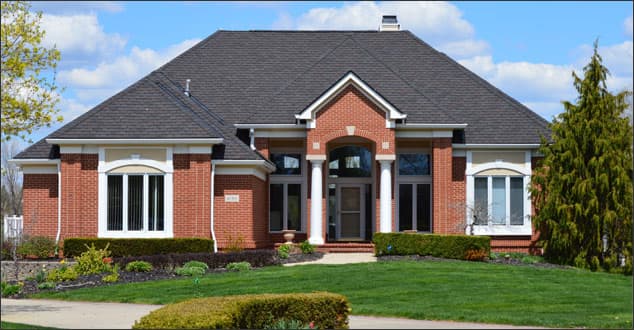 Have you heard of a hip roof? Aside from being an awesome roof, a hipped roof is the name for an architectural style of roof.
Hip roofs or hipped roofs are the second most popular or commonly used style of roof in North America. The first most popular is the gable style roof.
What Is A Hip Roof?
A hipped roof is characterized by the fact that it slopes down from all four sides to the walls and has no vertical sides.
It is an old style of architecture dating back to the early Georgian period when it became popular in the United States in the Mid-Atlantic and southern states.
The Georgian period was in the 18th century. It produced some of the United States' most iconic homes and buildings – the ones we call classical architecture. They are known to be highly balanced and symmetrical buildings. Many of them were built so well that they remain today.
A hipped roof is suitable for longevity because it is one of the most aerodynamic styles and can withstand hurricanes and hail better than flat roofs.
Hip roofs are a staple of Southern plantation homes, especially those built in the French Creole or French Colonial styles.
Five Basic Types of Hip Roofs
Basic Hip Roof
The basic or regular hip roof sits on a rectangular structure that has only four faces. It is very symmetrical and visually pleasing as it almost always has the same slope.
This makes them balanced at the center. With a basic hip roof, the front and back sides form triangles. These are the hip ends. The long sides are trapezoids
Half-Hip Roof  
A half-hip roof is also called a clipped gable or jerkinhead roof. It looks like a traditional gabled roof. However, the joint of the gable is hipped instead of coming to a point.
These kinds of roofs are evocative of antique European buildings, as they have been common in Germany, Denmark, Slovenia, Austria, and Southeast England.
The useful thing about a half-hip roof is that the gutter can be easily accessed all around the house.
Pyramid Hip Roof
If you lay a hip roof on top of a square box building, it creates a pyramid.
This is one of the variations of a hip roof that you will find on gazebos and pavilions, which has given them their other name: pavilion roofs.
Hip and Valley Roof
These are also called broken-back hip-and-valley roofs. If you have an irregularly shaped structure underneath, you have to join the two segments of a roof by the rafter of the gables on one side and the rafter of the valley on the other. It forms a valley on the inside corners.
These style of houses are also going to have more than four hips on their roofs.
Cross Hipped Roof  
If you live in North America, the chances are good that you have a cross hipped roof style. This is because most ranch homes are in an L shape and sport a hipped roof.
Cross hipped roofs are great for gutters and high winds and therefore very practical. This form actually originated in 19th century Italy. However, they live on today on many mid 20th century homes.
Bringing it Home
There aren't many drawbacks to hip roofs. They don't leave too much space in the attic. However, they are durable and pleasing to the eye.
Do you have a hipped roof? Have you had any problems with this style?
As always, if you have any questions about this or any other roofing topic, please don't hesitate to call our office. It's our honor to get them answered!