Popular Gable Roof Types Pros & Cons
The gable roof is the most classic roofline. It has two sloping sides that come together at a point and form a ridge across the top. The end walls – or vertical sides – are triangular as a result. It's also called a pitched roof or a peaked roof, and it's one of the most popular types of roof in the United States, if not the most popular. This is the type of roof you will find on a Cape Cod style house.
Why are gable roofs the most popular? It's because of their versatility and ability to shed rain and snow. They also allow for more space in the attic and ventilation capabilities. They are easier to build than some of their more sophisticated counterparts. Because of this, they are often cheaper as well.
Types of Gable Roofs
There are several variations on the gable roof design. Let's look at what they are called.
Classic Gable
The classic gable roof is simple. It has two sloping planes over a box-like structure.
A classic gable will look like a child's drawing of a house. You can find this style on a bungalow or a ranch house. However, it is also popular for modern or contemporary style dwellings that don't have flat roofs.
The clean lines of a gable roof make it an ideal design for many styles.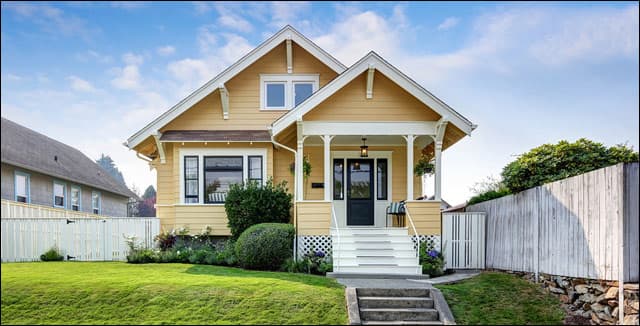 Front Gable
A house with a front gable is popular on Craftsman or Colonial-style homes.
The front gable is a prominent feature meant to highlight the entrance of the house or building, often supported by large columns.
A false front gable can be added to a ranch-style home to add depth and character.
Cross Gable
A structure with a cross gable has two gable roof sections joined together at a right angle.
There are two ridges on a cross gable roof, and they are perpendicular to each other.
If you have a home with separate wings, a cross gable roof is an excellent solution for this design.
Cross gables can be used to accent different areas of a home – like a garage, dormers, or a front porch.
Dutch Gable
A Dutch gable is a hybrid roof where a gabled roof is built on top of a hip roof.
This design most often resembles a house that has a kind of "skirt" around the upper story. This design was an invention to maximize attic space.
A-frame
An A-frame roof is an extreme gable. The sides of the roof extend all the way or almost all the way to the ground.
A-frame design is popular for cabin construction. However, you also see A-frame front gables as a unique architectural element on some homes.
Gable Roof Pros & Cons
As I mentioned above, gabled roofs are great at keeping out rain and snow. Their steep pitch protects them from some of the most constant weather elements. They provide a lot of space inside for attic rooms or vaulted ceilings, and they are easy to build.
Gable roofs can be covered with almost any material:
Cedar shakes
Terra cotta
Metal
Clay tiles
Concrete tiles or
Asphalt shingles
However, gable roof designs have problems in high winds – especially areas prone to hurricanes or tornadoes.
Frames must be constructed with proper supports, or the roof can collapse. High winds also peel materials away from gable roofs more easily and lift up underneath a gable roof with a deep overhang. If this happens, the roof can lift away from the walls.
Bringing it Home
You most likely live in a house with a gabled roof, since it's the most popular roof design in our country.
In Michigan, we don't get high winds or tornadoes as often as other areas of the country. Gabled roofs are relatively safe here.
However, if you fear a storm has damaged your gabled roof and live in Southwest Michigan, give us a call. We're happy to help.